"We guarantee the Olympic Cluster
Olympic Clusters General map in Sochi will be completed on time. We have reserved around $12 billion for that purpose," said President Putin at the meeting of the International Olympic Committee in Guatemala in 2007. Up to the spring of 2013 'Will it be ready on time?' was probably the most frequently asked question.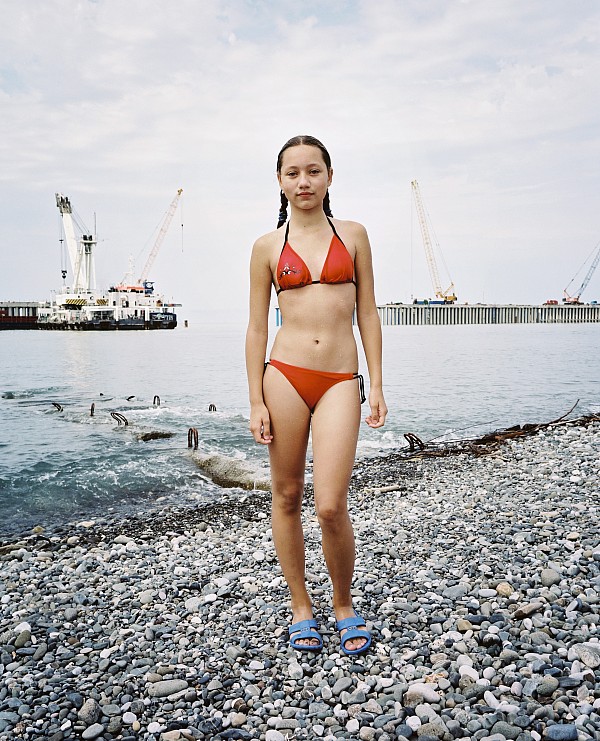 Olga on the beach in front of the yet-to-be-built transport harbour in Adler.
It was a tall order from the outset: almost all the Olympic facilities had to be built from scratch. Aside from the skating venues and ski slopes, the roads connecting them had to be laid, a new commercial port constructed so that not all of the materials had to be transported on the narrow coastal roads, athletes villages, media villages, a modern airport, train stations, new railway lines and perhaps most astonishingly, dozens of hotels. Although as a spa town and resort Sochi had received millions of tourists annually for more than a century, almost none of the existing hotels appeared to meet the standards of the athletes and officials.
Contrasts
Never before have the Olympics taken place in a region that contrasts more strongly with the glamour of the Games than Sochi. The Russian Organising Committee's Olympic models bear little resemblance to the actual situation in Imeretinskaya Bay. After soaring over futuristic stadiums in the Sochi 2014 propaganda office, we drive to the location where it is all supposed to happen.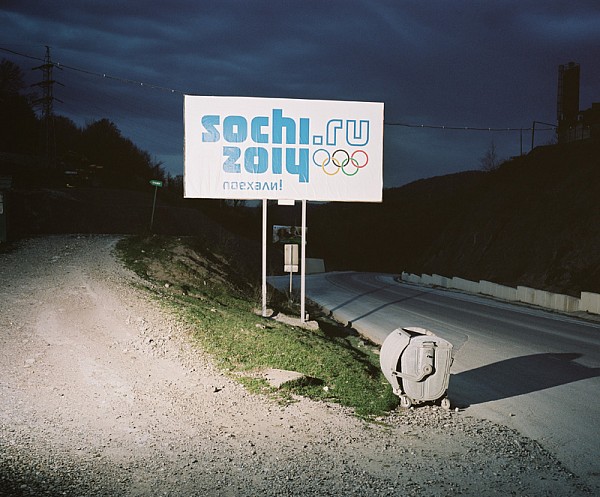 'Sochi 2014 : let's go!' (Krasnaya Polyana, 2010)
Cabbage is growing everywhere. Standing among the cabbages is a caravan. This is where Stella, 17, lives. She is a refugee from Abkhazia. She points to her country of birth, just 800 metres away. She never wants to go back there. The caravan has been extended with plastic and corrugated iron into a small, improvised dwelling. The whole piece of land used to belong to the old sovkhoz Russia, which lies nearby. A high blue fence surrounds the vast property, indicating the borders of this Olympic site. Behind the fence is a stage from which an IOC delegation surveyed the terrain a year ago. The cabbage will soon be replaced with the stadiums for the opening, closing and medal ceremonies, two ice hockey stadiums, a curling stadium, the indoor skating arena, a figure skating arena, the Olympic Village and international press centre. In the mountains, where the bobsleigh, cross-country skiing, biathlon and other events are due to be held, only two small ski slopes are currently available. The two villages in the valley previously catered to summer hikers and produced honey and mountain herbs. In the four years between 2009 and 2013, a revolution took place in both locations – known in Olympic jargon as the Coastal Cluster and the Mountain Cluster. But for that revolution to occur, many voices of dissent had to be silenced – or ignored.