The subtropical Winter Olympics
To the bombastic first bars of Tchaikovsky's Piano Concerto No. 1, Russian President Vladimir Putin steps forward in early July 2007, his characteristic rigid posture seeming to combine toughness and extreme discomfort in equal measure. The location is Guatemala City, the occasion is the annual meeting of the International Olympic Committee. Russia has reached the final round in its bid to host the 2014 Winter Olympics, together with South Korea's Pyeongchang and Austria's Salzburg. "Sochi is a unique place," Putin says in carefully rehearsed English. "On the seashore you can enjoy a fine spring day, but up in the mountains it's winter. I went skiing there six or seven weeks ago and I know, real snow is guaranteed." President Vladimir Putin "Real snow is guaranteed." He concludes his speech with a few sentences in French, smiles to the room and returns to his seat visibly satisfied. Salzburg is eliminated in the first round of voting, putting Pyeongchang in first place. Sochi wins in the second round. Putin's diplomacy has worked. Spontaneous celebrations erupt and fireworks are set off in cities across Russia, state media reports.
Putin Guatemala 2007 In this small piece of subtropical Russia where no snow falls in the winter, the 2014 Winter Olympics will be held.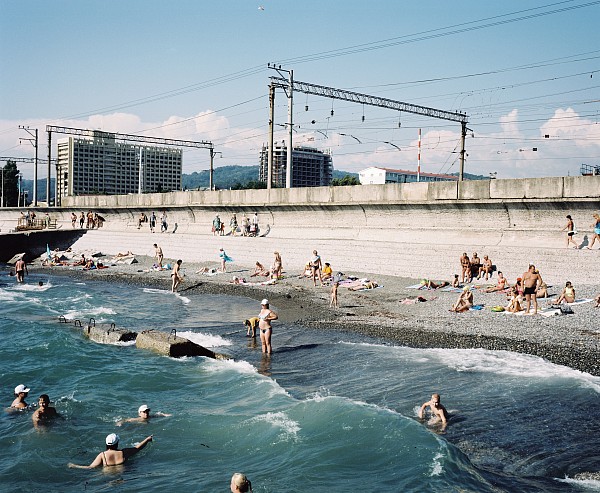 The railway goes right past the pebble beach of Kurortny Gorodok. Adler, Sochi Region, 2011
Sochi is a remarkable choice. The train journey from Moscow to Sochi takes 37 hours. Thirty-seven unbroken hours of birch forests, wheat fields, farms, factories, abandoned land and here and there a village or town. Drifts of snow lie everywhere. The local people trudge through them, blowing clouds of steam, dressed in black trousers, jumpers, coats with fur collars and warm hats. We pass Tula, Voronezh, Rostov-on-Don, Krasnodar and still snow lies everywhere. Then, at 5 o'clock in the morning, we rush past the mountains, the north-western foothills of the Caucasus, and the snow vanishes under the warm sun. Suddenly there are palm trees, a calm, rippling sea plays with the pebble beach and sanatoria rise above the railway track that runs right next to the coast. And here, in this small piece Russia
Russia Caucasus of subtropical Russia where no snow falls in the winter, the 2014 Winter Olympics will be held.